A lot of people think they are doing demand-gen when they are actually doing Lead Generation.
Let's first understand, what Demand is Demand Generation.
What is demand generation?
Demand generation & Demand Generation teams are focused on building reliable brand awareness and interest that results in high-quality leads.
Leverage brand messaging & positioning to build authority and develop recognition with prospective clients. Produce creative images and content assets to attract users to become part of the funnel. Once in the funnel, comes in Demand-Gen Nurture, Sales Funnel, Sales & Marketing Strategy to assist the prospect to turn into a deal.
or
Demand Generation is a marketing tactic designed to create a need for the thing that you sell. It seeks to build awareness among your audience.
or
Demand generation is all about getting your name out there.
or
Demand generation is the process of generating new business leads through marketing and sales efforts. Lead generation aims to identify and qualify leads, generate interest in a company's products or services, and create a next step for the prospect. Awareness of a company's products and services is key to successful lead generation. Qualified leads are leads that have shown an interest in a company's products or services. New people are people who have never heard of a company before. Next step is the action that the prospect takes after being contacted by a company. The marketing and sales process is the sequence of steps that a company takes to generate leads and sell products or services. Successful demand generation requires generation strategies that target the right audience, create interest in a company's products or services, and engage the prospect in a way that leads to the next step.
What is Lead Generation?
Whereas lead generation is all about generating leads for a company, demand generation is a process that a company uses to create interest and demand for its products or services. Attention is the key to generating demand. Companies must create an engaging message and find the right way to distribute that message. They must also create a need for their products or services and find the right target market. Need is another important factor in generating demand. Companies must identify the needs of their target market and find ways to fill those needs. An offering is another key component of demand generation. Companies must find a way to offer their products or services at a price that is affordable and attractive. Gated content is another effective demand-generation strategy. Companies can use gated content to keep their target market interested. Anonymity is another key element of demand generation.
Difference btw Demand Generation & Lead Generation
Demand-Gen and Lead-Gen are two different strategies with unique goals.
Demand Generation strives to build brand awareness and authority so potential customers reliably enter the purchase track, sales, marketing funnel, or marketing funnel.
Lead Generation strategy focuses on turning an engaged audience into leads via direct outreach.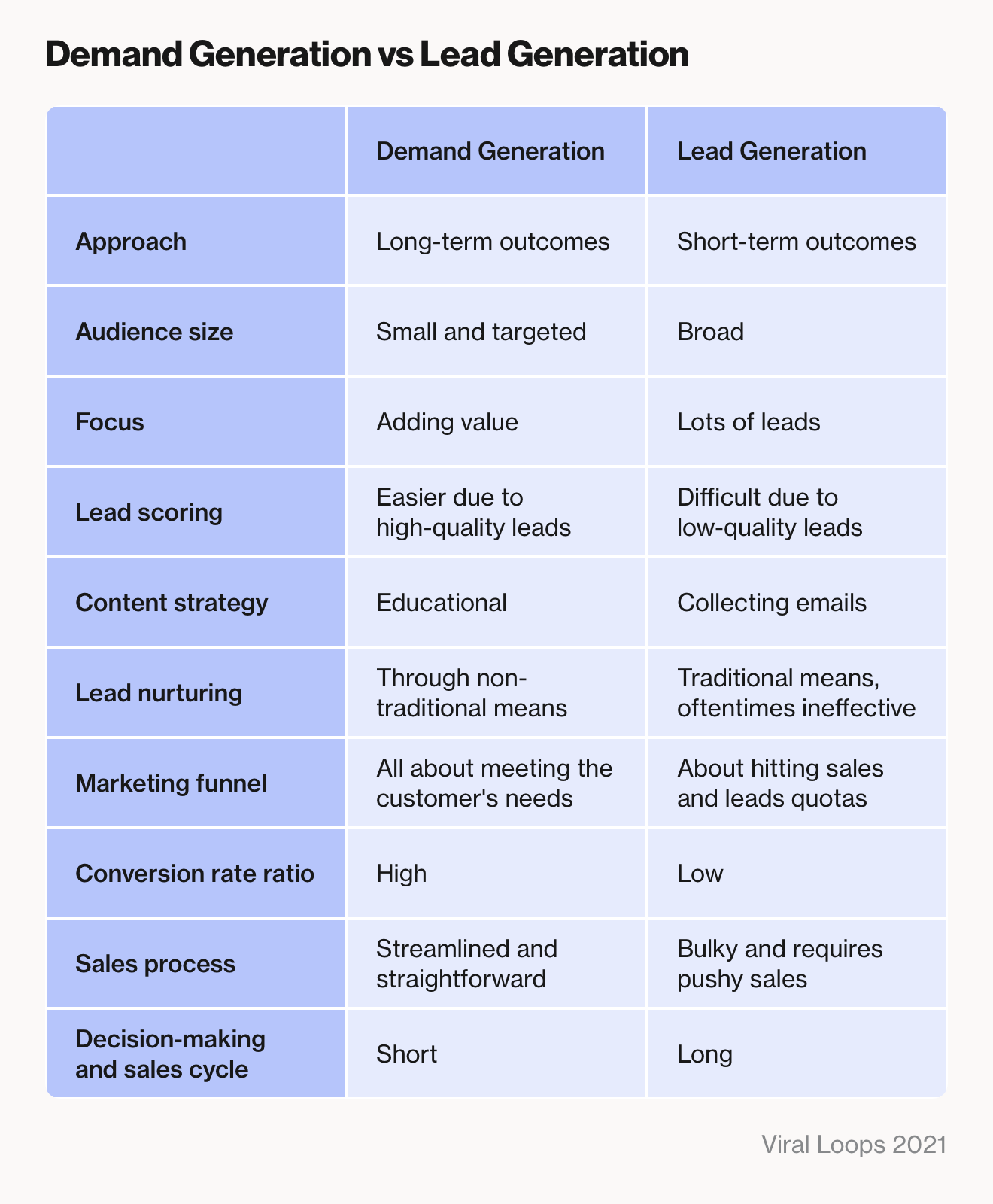 Data is essential in targeting marketing campaigns. Companies can use website analytics to understand which marketing campaigns are working best. They can also use social media ads to target their right audience. Front-end marketing is another effective way to generate demand. Companies can target their right audience by using the right content and targeting their data.
Demand generation is the process of creating new sales opportunities. It involves identifying and understanding the needs of your target market and then developing a plan to meet those needs. Demand generation can be done through Search Engine Optimization (SEO), Search Engine Marketing (SEM), and social media campaigns. Lead generation strategies involve creating and distributing content that attracts potential customers. This content can be in the form of articles, blog posts, videos, or e-books. It can also include special offers and discounts. Overall digital marketing is the process of creating a cohesive and effective digital marketing plan that will help you reach your business goals.
Modern marketing shifts include the growing importance of social media and the growth of mobile technology. These shifts have made demand generation more important than ever. Many businesses today rely on demand generation to attract new customers and generate leads. Essential elements of a successful demand generation strategy include strong content marketing, effective lead generation methods, and a well-developed digital marketing plan. Other important elements include a strong online presence, a powerful website, and a strong online marketing strategy.
Demand generation refers to the process of acquiring new customers or leads through various means. While lead generation is the process of acquiring those new customers or leads, it is important to keep in mind the difference between the two. Demand generation refers to the process of acquiring new customers or leads through various means. Lead generation refers to the process of converting those new customers or leads into paying customers. It is important to note that demand generation and lead generation are not the same things. While lead generation is the process of converting those new customers or leads into paying customers, demand generation refers to the process of acquiring new